about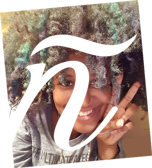 I create and design simply because it makes me happy. There is nothing else I could picture myself doing for the rest of my life. When I encounter a new assignment I am eager to see where it ends up. I tend to pay close attention to color and typography. My work is inspired from life experiences, a love of creating, and other creative minds.
Since a young age I was interested in art and design. My father was an artist as well. Growing up I was always awe-stricken when viewing my father's illustrations and portraiture. With the belief that one day I could be as good of a "drawer" as my father, and for sheer entertainment, I would draw and color all of the time.
Years later we got our first computer and in fifth grade, I started experimenting creating a web page from the old Yahoo! Geocities. I created a small website with around five links about how school is so boring. I labeled it "Tired of School." Looking back, it's pretty funny but I was proud of my site and got a decent amount of web traffic. In comparison to today, I've come a long way.
In conjunction with learning HTML, I began to experiment with painting outside the digital world. I started with watercolors and then switched over to oil and now work mainly with acrylics. I was first inspired to paint by artists on PBS such as Bob Ross, Donna Dewberry, & others. I then grew to be inspired by Gustav Klimt, Jean-Honoré Fragonard, René Magritte, Vincent van Gogh and more. By age 13, my painting skill and technique developed greatly and a few of my paintings were selected to be featured in numerous nursing homes throughout the state of New Jersey.
I graduated from The Art Institute of Philadelphia with a major in Graphic Design. I plan to use my graphic design degree and my web design knowledge to continue doing freelance work. Who knows where I'll end up. I'm just happy doing what I love.
The level of work Oñay produces is exceptional, the way her creative mind works its no wonder that she has done so well for herself. When I approached Oñay to help me with my Website she was eager to get started and with the end result it showed that her dedication was there. I would highly recommend Oñay, not just because of her design experience and expertise but because when you work with her you work with the real deal. Diego Hernandez

Oñay is a very creative minded person. Once she starts a project she commits herself 110% until its final completion. She has a great sense of style and loves using various typography to convey a beautiful message. She is also very proficient at webdesign that she pretty much taught herself. She's a quick learner and fun to be around. Any company would definitely benefit from her being part of the team. Charisma Henzie

Onay is extremely talented and designs and is customer focused. She has designed marketing material, business branding materials and recently completed illustrations for my nine year old's first book. I would strongly recommend her for any businesses new and evolving projects. She has great insight and will deploy your vision. Sharone Glasco

Oñay possesses a high level of creativity and good attention to detail. She was able to work on a variety of projects at Iperdesign and managed her time well. Oñay gets along well with her colleagues and took direction well. Anthony Groves

Oñay is a talented young designer whom I have had the pleasure to work with in an advising capacity. She is extremely communicative and is someone who I know will work to ensure everything I need from her is completed in a timely and professional manner. Rachel Johnson

Onay is an excellent graphic designer. She uses layers to create a complexity that is eye-catching, inviting and unique. She is also very good at conceptualizing. Linda Karp